Cat Cookies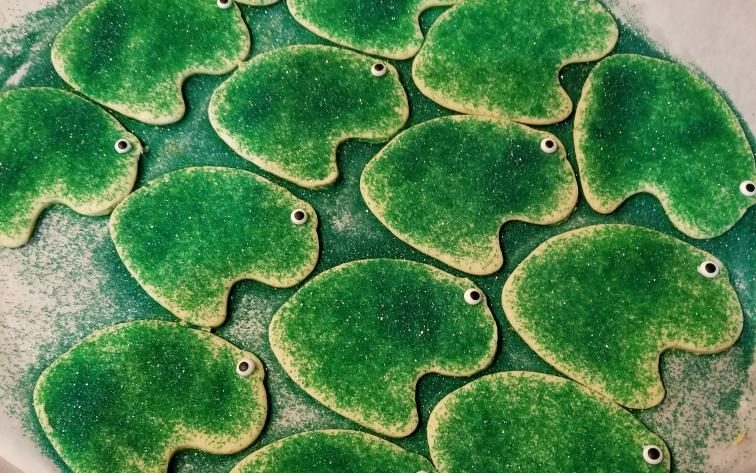 Is there anyone who doesn't love cookies? Cookies are delicious, and eating one makes you feel warm and toasty inside. They come in all different shapes, sizes, and colors. This festive, amphibian-inspired confection is a custom cookie designed based on our beloved mascot, Cat the Frog. Chef Kevin Watson, owner of Chef's Table, a black-owned restaurant here in Pittsburgh created the Cat cookies in partnership with Catapult to help raise awareness of our organization's positive impact on the local community. All of us here at Catapult encourage everyone to go out and support our wonderful, black-owned businesses this–and every–holiday. But, you can make your own Catapult or Saint Patrick's Day-themed cookies at home. So why not put a festive spin on a classic this St. Patty's Day? After baking a batch of your favorite cookies, add a little extra pizzazz by topping your cookies with vibrant green frosting, or shamrock sprinkles. As icing on the cake, now you get to enjoy the aroma of freshly baked, warm, buttery cookies as you eat your festive sweets. Share your creations with us on social media in a message using the links below, so we can feel the love, too!
Are you a business owner in need of assistance? Learn more about our programs by visiting the Programs page with the link below:
If you are a minority entrepreneur looking to break into the culinary industry, or a minority owner of a restaurant, Catapult has an exciting program coming in the future. Catapult Culinary will be the premiere program for minority food-based businesses. To find out more, contact our Entrepreneurship Program Manager, Lachelle Binion, at [email protected].
Be sure to sign up for our newsletter (fill out the form in the footer of the website), so you don't miss any future updates on our programs. From all of us here at Catapult, happy St. Patrick's Day.